Music – performing it, recording, listening, providing advice, the passing on of experience. (Almost) every kind of emotional expression by means of notes and sounds can fill me with enthusiasm time and again.
Therefore I make music myself.
On the bass in soul and jazz, as well as on the viola – in the classical field in chamber orchestra and string quartet.
And with JUST7 I am in charge of the chorus parts. It is so fulfilling to arrange and sing harmony parts. I would never have thought that one day I would enjoy my own voice that much.
---
With increasing experience, my interest lies more in the music that touches my heart. This consolidates the power…
---
And:
I would like to encourage everybody to engage with my subjective view of things.
By no means do I want to patronize anybody or be the wise guy and: this does not depreciate any other opinion.
It helps, however, to communicate directly with synapses unblocked between the sensory centres.
I do not hide behind the third person, which I often encounter on various websites, I am who I am. Nor do I use a presumptuous "we" in order to simulate a larger entity. I'm me with all my strengths and weaknesses.
---
After spending many years working exclusively on the "other side of the window" as a tonmeister for the South German broadcasting corporation "Süddeutscher Rundfunk", as from 1998 "Südwestrundfunk", and in my own studio, I returned to my roots again a while ago.
In 1996 I rediscovered the viola (thank you, Irmgard Bauer !) and initially played in the Markusorchester.
Then, via a cellist of this orchestra, Dora, I made contact with a string quartet in Bietigheim which needed a viola – thank you, Doris, Gudrun und Didi.
The church confirmation of my children Kevin and Fiona lead to a connection with the local parish and I also participated in musical activities there – thank you Burkhard Pflomm.
Subsequently I joined a string quartet which regularly practices in the castle Schloß Magenheim – thank you, Theo Stetter, Hans Rückauer and Frau von Lamezan.
In the year 2014, a quartet was formed which harmonized perfectly both musically and on a personal level, consisting of Hans Rückauer, Susanne Wolf (Markusorchester), Sophie Urmetzer and myself. Since Sophie gave birth to Milla (what a sweet little creature) we took a break, but now in early November 2015, we have already rehearsed again.
In April 2009, pulling out of a parking space in front of Soundland in Fellbach, I almost collided with a VW Sharan. A certain Joachim Grötzinger got of that car, an organ and piano player I had already made music with in the past century.
For example in a Coverband called "Springfever" with the Scottish singer Jeanette McLeod who sadly passed away at the end of 2012, the saxophonist Klaus Röhm and drummer Michael "Miggi" Kersting.
After a short greeting and some brief banter he asked whether I would like to join his duo "Sax und Taste" - ("sax and keys") as a bassist. When I told him that at the end of 2002 I had sold all my basses (a 72 jazz bass and a Framus Fretless – which had been played by Jaco during a studio production back then – boo-hoo !!) and disposed of the modified Standel-BassAmp, he dryly replied:
"This is Soundland, they stock everything."
Nobody can resist compelling argumentation, and even though I did not make the purchase instantly, I did so within a decent period of 1 week: a Yamaha 5 string and a Line 6 LD150. When later the rhythm section of his band JUST7 quit, I was immediately hired as the new bassist. With a drummer obviously the power of the LD150 was no longer sufficient and I got myself a CARVIN Combo, modified by Raffi Bauer with 2 NeoDym 10".
But now let's embark on a brief journey back in time.
With music, I have always been interested in crossing borders and pushing limits.
In 1974, after completing my studies*, I joined the "Süddeutscher Rundfunk" as a tonmeister for the radio big band "Erwin Lehn und sein Südfunk-Tanzorchester", today the SWR Big Band.
(* and the reason to commence these studies was a black-haired beauty from Lörrach, who, during the summer holidays of 1968, spoke to me so cool and enthusiastically about the tasks of a recording engineer – where are you now? - thanks !)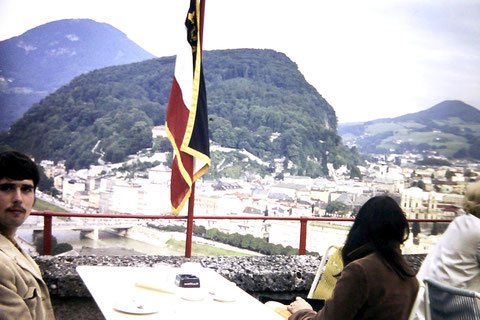 I had a great time studying in Detmold. Probably only my contemporaries are still able to picture the freedom we enjoyed in making the most of the courses offered. And there was lots of time left to give everything a go.
Surely, the interest in the technical and musical disciplines of the studies did not miss out, but sometimes the preferences were set differently to what the teaching establishment would have liked to see.
Here you can see me during a recording session with the Darmstadt Band "Liquid Gallon" around the brother of my fellow student Michael Peschkow. I remember Bernhard Magsaam on the bass and a certain "Butzl" on the drums.
Please note our vintage technology, which already was "vintage" in those days, not to say: unloved and old-fashioned. Today opinions differ on this, I know.
In 1974, my job at the SDR started, and in addition to my work with the orchestra "Erwin Lehn und sein Südfunk-Tanzorchester" (yes, that's what the SWR Big Band was called at that time) and with many other bigger and smaller groups performing "light music" (which was a separate department still making original productions, alongside the department "serious music"). I also got to participate in the recordings with Wolfgang Dauner´  s Radio Jazz Group as well as in a part of the series "Treffpunkt Jazz", brought into being by Dieter Zimmerle and hosted by the SDR itself, as a production manager (one can never stop admiring what was possible then – also financially, and apparently is no longer feasible nowadays). Somebody who embraced me with all of his heart and, through his recommendation also helped me to obtain this sought-after position with the radio, was Peter Billman, who died in July 2015. Thank you, Peter.
There I met many musicians and soon, together with a friend and sound engineer, the idea to open an own studio was born. Thank you, Harald Schäuffelen. So "studio-westend-ton" at Augustenstraße 75 came into existence, which we ran together from 1980 until 1984, starting with TEAC-4-track up to TASCAM-16-track towards the end.
Those were the times when the recordings with Otto Kondzialka and Friedemann Bornträger  (see audio examples under "YESTERYEAR / Long gone and worth hearing ...")  and also those with Joachim Grötzinger, Klaus-Peter Schöpfer and Thommy Wahl were realized, all still on an 8-track-TEAC and a Soundcraft 400.
Other recording sessions I remember well are with "Jazztones", still well known to me are pianist Ull Möck and bassist Pit Schönfeld, who later also became a good friend and life-long companion.
During one of the pieces the multi-track tape broke down after 8 minutes and I spontaneously switched over to "bootlace" (stereo tape) for the mixing. One chorus at the end was missing, but the final theme was on tape and the recording was rescued with some post-recording finishing touches.
After changing to a TEAC 1"-16-track and a TEAC-M15 the productions with Dieter Reith, who recorded with me before he had his own DRM-Studio, started (the first three episodes of the detective series "Ein Fall für Zwei" – the drummer being replaced by an Emu Systems "Drumulator"), as well as recordings with another highly gifted musician and pianist, Joerg Reiter (he broke in my KAWAI grand piano which I could afford thanks to sponsoring by my grandma and he was one of my best friends in those days). Thank you, Dieter, who subsequently became my best friend, and thank you, Joerg. Unfortunately, both of you are no longer with us. Joerg died very prematurely at the age of 55 on 7 July 2015 and Dieter left us on 1 April 2020.
The friendship with many musicians also enabled the production with an unknown artist - Jupp Sinzig – which resulted in great fun for everybody involved, but in no financial success whatsoever. By the way, the same applies to the production of the title "König Ludwig" with Johannes Faber and Joerg Reiter. Another musically ambitious venture was the project with Johannes Faber / Christoph Lauer / Joerg Reiter / Thomas Stabenow / Joe Nay, however, with just as little commercial success.
In the spring of 1984, during a production with the singer-songwriter Thomas Felder, the owners of the Haus in Augustenstraße 75, where we were subtenants to the photographer Jörg Sulzer, came to visit us after being surprised by a newspaper article referring to a studio "in the bomb-proof cellar in the West of Stuttgart" - thank you Werner Stiefele. Thankfully we were still permitted to stay in the vaulted cellar until the regular relocation to Zuffenhausen.
The wish for better acoustics and a little more comfort led to my own house with spacious, high basement rooms in the Hohenloher Straße in Zuffenhausen. Here I created the "melody tonstudio" with active support by friends – among many others whom I can't possibly all mention here – also with my colleague of many years at the Südfunk, recording engineer Jürgen Frehse. His soul now roams the Canadian woods after he was taken from this life much too early by cancer, and the soul of his wife now accompanies him she was buried in her log cabin by a landslide in 2012. Jürgen – I so sorely miss you and our conversations.

The daring step to undertake this huge venture and great risk was accompanied by my wife, sound technician Kristiane Kaufmann, who stood by my side with the courage of a lion and lots of enthusiasm in those times – thank you, Kristiane (her fight against cancer came to an end on 8 February 2012.)
In this studio (1984 - 1988) I was able to gather experience directly at the console, which is of great help in my work as a producer. Technically, equipped with a Soundcraft 2400 (the micro input had been modified by Jack Breyer, which induced Abe Laboriel to comment during a session: "but that console is modified ?"), a Telefunken M15 - 24 track, 1 tube and 1 solid-state Telefunken M10, the studio had reached quite a solid level. The periphery consisted of a Lexicon 200 Digital Hall, an EMT "Goldfolie", an URSA MAJOR Space Station, various semi-professional digital parts and ValleyPeople dynamic processors. The microphones used were Neumann tube and transistor microphones, AKG, Shure, Elektrovoice, Sennheiser.
Musically, I learnt a lot in this period, mainly by intuitive practical experience, and from various producers. Of those, I would particularly like to name Dieter Falk, who in those days worked for pila-music, a Christian publishing house, and needed to accomplish large productions on a small budget. For this purpose, medium-sized studios like mine were the perfect choice – thank you, Dieter.
With the friend Thomas Horstmann and his duo partner Matthias Widmann the recordings for: "Zweitett - ToMato" were made. During this production I learnt a lot about jazz guitars, since it was not at all easy to conserve the deep guitar sound without unwanted noise - thank you, Thomas, for your patience and life-long friendship.
At this juncture, naturally some name-dropping cannot be avoided, particularly with regard to the array of bassists. During a production with Bernd Konrad's "Südpool", I had the pleasure to welcome Jack Bruce, the legendary bassist of Cream, to the studio.
For a Sonoton production with Klaus-Peter Schöpfer the global super stars Alex Acuña, Hadley Hockensmith and Abraham Laboriel showed up upon recommendation by Dieter Falk. In connection with another production by Gerti and Jan Jankeje for the "Jazzpoint" label, together with guitarist Bireli Lagrene and drummer Peter Lübke, bass legend Jaco Pastorious  visited the melody-tonstudio. His motto was: "always keep the tape running ... you never can tell, when music is happening...". Well, multi-track tape was expensive in analog days, but more often than not there was also a cassette tape running. And those live mixes didn't sound too bad, after all these recordings have meanwhile been published by "Jazzpoint". The original session with Jaco, Bireli and Peter Lübke received some additional colours in the overdub thanks to the creativity of the keyboarder Vladislav Sendetzki, now pianist with the Hamburg NDR Big Band. One can listen to the result on "Stuttgart Aria", with some alternate tracks also on the double CD "Broadway Blues & Teresa".
Unfortunately, this magnificent experience – like so many things on Earth, where, after all, we are but visitors – was limited to a short period of time (the gift in this being that the bad times, too, do not last eternally!) Kristiane did not feel sufficiently loved and respected by me and the studio she had helped build with so much energy. She quit. Fortunately for me the financial venture did not end in a disaster, since many clients helped me a lot towards the end – and maybe you don't even know how much you helped! Special thanks here go to  Petr Pandula of "Aufwind" and to Horst Götz of the band "RE".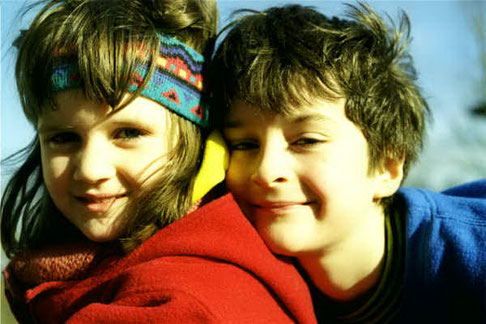 In the final stages in the melody tonstudio, during recordings for a Ghandi project with the band "Aufwind", I met Anne Wylie who became my second wife.
In 1991 our son Kevin was born, in 1994 our daughter Fiona – thank you very much, Anne!
Due to the family life, my love was now devoted to them and my time was needed for more existential tasks. In the Nineties I also spent quite some time at the Atari, later the PC, looking into the possibilities of digital creation of music.
I continued free-lancing for some time, among others with the blues guitarist Hary deVille, the L.E. BigBand and others, mainly in the CMA-Studio in Altensteig – many thanks, Andy Claus!
Due to the availability of more economic technology, the recording market shifted more and more towards the home studio sector, thus there were less assignments and I found the time to play music myself once more.
Currently bass and backing vocals with Maggot On Mars, who have come back on stage after changes in the personnel and intense rehearsing:
Sarah Setzer and Regine Faller: vocals, Achim Grötzinger: keyboards, Dieter Meile: guitar and Werner Wegener: drums.
And I also carry on playing the viola: Quarteto Meginheim and the aforementioned Kosmos Quartett.
In public service broadcasting, too, budgetary rigour and modern management have taken over now - really?
Be that as it may, I am no longer needed for the Big Band – but nobody can take the memory of the wonderful times away from me. Here, during recordings for the Bob Florence production in the studio for light music "U-Musik-Studio Stuttgart", in an era, when recordings were still made the "old-fashioned" way.
Please excuse the quality of the pictures. They are scans from a newspaper.
However, everything has got its purpose, which, as ever lies in ongoing advancement. Step by step, as Hermann Hesse beautifully puts it.
In this context a poem comes to my mind. It was fixed to a mirror at my grandma's place:
Do you really believe that on the path of your life
there is a single obstruction set there without a greater purpose?
The poem describes that God put all the obstacles in our way for us to be able to grow with them. I must admit, this is what people believed in in the 19th century, strange to our modern way of thinking.
Since you don't know my grandmother, you can't know that she also lived by this axiom. And she was not only the best role model for me, but also the greatest love I was ever permitted to experience.
But back to the topic on hand:
Most recently – in addition to devoting myself to the guitar, the viola, the bass and singing – I was required for recordings in the symphonic field. So many new impressions, human encounters, journeys in sound to unknown places and lots of new tasks awaited me on a daily basis.
And inevitably, this leads us back to the beginning: my life-long passion for sound.
---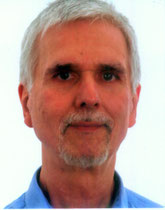 ---