In my main job I worked many years for the broadcasting corporation SWR, prior to 1998 (since September 1974) for the SDR. Since April 2015 I have been free to pursue my own projects.
In 2011, an assignment was requested, which I would never have been able to "land" without the experience from my own studio and the help of Arnie Lauer: the remastering of old recordings from the archives of the radio programmes "Treffpunkt Jazz" by Dieter Zimmerle in the SDR and "JazzTime" by Joachim Ernst Behrendt in the SWF, a cooperation between the SWR Media department and the "jazzhaus" label in Halle, which was primarily initiated and masterfully realised by a former SDR employee and jazz enthusiast, Ulli Pfau. The result was a highly ambitious series, visually presented with refined taste, and everybody who participated in its realisation can indeed by proud of it.
I still know Dieter Zimmerle and his associate Gudrun Endress from working together during the concerts, and I met J. E. Behrendt on occasion of a tribute at the "jazzopen" 1998. The two men were completely different characters, but both driven by their visions and the ability to realise these. I show my respect for and take a bow to what they achieved and the legacy they left us  !    
Unfortunately, in the meantime some turbulences and changes occured in the creative sector, with the result that Ulli Pfau is no longer involved. Unfortunately, because since then I have become aware that without him this could not go on.
The SWR Media continued the project for a while, with productions initiated by him, a new editor and a new sales partner, but what was missing was the drive, the soul of it all, the man who browsed the archives and made his great finds.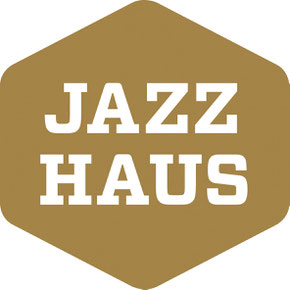 Published by jazzhaus so far:
Zoot Sims Baden-Baden, Dizzy Gillespie Quintet, Cannonball Adderley Quintet, Jutta Hipp, Oscar Pettiford, Duke Ellington Orchestra, Albert Mangelsdorff Quintett, Gerry Mulligan Sextet, The Modern Jazz Quartet und Chet Baker, Benny Goodman Orchestra – double vinyl.
Duke Ellington Orchestra, Art Blakey and the Jazz Messengers, Zoot Sims Baden-Baden, Benny Goodman Orchestra, Cannonball Adderley Quintet, Jutta Hipp, Albert Mangelsdorff Quintett, Oscar Pettiford, Gerry Mulligan Sextet, Dizzy Gillespie Quintet, Orchester Kurt Edelhagen, Volker Kriegel, The Modern Jazz Quartet und Hans Koller & Friends.
In this context I am particularly delighted with a statement of DownBeat:  "recordings have been lovingly remastered from the original master tapes ..."
On Constantine Soo´s dagogo website the Oscar Pettiford release is described as follows:
"This new release from Jazz Haus features inventive and interesting music, well recorded, expertly mastered and pressed on 180 gram vinyl."
---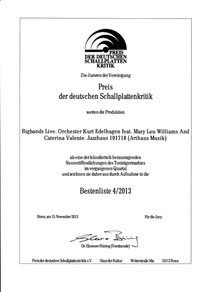 The jury of the association
"Preis der deutschen Schallplattenkritik"
rate the production
Bigbands Live. Orchester Kurt Edelhagen feat. Mary Lou Williams And Caterina Valente. Jazzhaus 101718
we rereleased with "arthaus", as one of the artistically outstanding republications on the record market in the last quarter and thus they honour it by including it in the
Shortlist 4 / 2013
---
At the end of  2012, for the Jutta Hipp Retrospektive at the Berliner Jazztage, we (Andrea Walz and the SWR - Media team) edited a vinyl edition with forgotten tapes of this icon of German post-war jazz. These sessions are highly worth listening to, among others those with Hans Koller and Joki Freund, …
In 2013, the Modern Jazz Quartet, Volker Kriegel and Chet Baker were added, although, unfortunately, the major part of the recordings (of Chet Baker) had already been lost in the meantime, deleted in the sixties on the directive of an evidently culturally uninitiated head of archives. These included precious gems such as the duo concert Albert Mangelsdorff with Chet Baker. At least a highly enthusiastic press review still exists !
---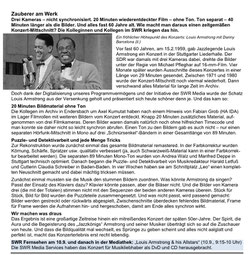 A stunning rediscovery of a legendary recording of the exeptional artist Louis "Satchmo" Armstrong from a concert of 1959 in the "Liederhalle" concert hall.
With all due respect for the achievements of everybody involved in turning the image and sound fragments into an up-to-date result, I would particularly like to recall one person in this context: Ulli Pfau, the man who combed through the archives and arranged for the editing to get under way. Thank you Ulli !!
---
And as with all the recordings from the fifties and sixties I am constantly overwhelmed by their immense intensity. They speak straight to the heart, which, of course, primarily is an expression of the spiritual power of that era.  No  feelgood or soft line approach, no gender or equal opportunities officials, everything came out directly, unfiltered and with genuine power - which by no means implies that there was no room for intellect, understanding or tenderness.
Usually, the recording engineers were only using a small number of (tube) microphones, the mixer consoles only had a few channels, and a simple, but musically effective passive tone control, generally no compressors and certainly no gates. Reverb, if at all, came from the EMT 140, AKG BX 15/20 or from the the echo chamber - there's the beautiful Bill Putnam anecdote about the improvised echo chamber in the men's room. Marvellous times! If an electronic form of performance was wanted, it was invented instead of buying a PlugIn. Perhaps it's just this which constitutes the charm of ancient recordings: the creativity, the realisation of self-experienced quality standards and the reduction to the essential ! For everything was in a state of flow, new forms developed and more than ever before, different art forms began to influence each other. And in their wake, mediocrity manifested itself.
How was that: Some time ago it had been intended to record a Tribute to the Beatles in the Abbey Road Studios, in original conditions, i.e. no drop-ins exactly to the syllable or Protools editing. Bon Jovi went straight back home. And what does the result of the rest sound like?
The music of those times also has a very particular spirit, a kind of anxious atmosphere, charged with childishly naive anticipation which makes it so unique. It is impossible to simulate this situation today, all replicas, covers are artificial, downright virtually superelevated. We are no longer at the heart of the matter. And to arrive at the essence, the following applies:
The originals are our benchmark !
However, I do not wish to be completely unfair and backward-looking: Even today, there are still – and will from time to time continue to be – exceptional artists you can put in front a microphone and you end up with a recording that merits listening to with delight even many years on.
If this were not the case, our goddess, the muse of music (for whom I have no URL) would certainly become extremely bored – and who knows what she would get up to then ??
---
As I stopped working for the SWR (previously Süddeutscher Rundfunk) in December 2014, it is now time to recall the fruit of my labour. One person who has been crucial in this is Jogi Rathfelder, an old friend, companion in music and currently head of music for the wave SWR1, without whom many of these important recordings would not have been possible.
Thanks to him and also to the fortunate circumstances of living in a creative period which in addition was free of financial worries, I had the luck to work with artists who made contemporary history. When I listen to the recordings today, my chest swells with a pride nobody can ever take away from me.
In the in-house sound design important companions were Peter Braun (thank you, Peter, you were simply AWESOME !!), Detlef Degener and Erich Ebert of transmission technology, later also Uli Meiburg and Karl-Heinz Simmerlein +, more recently also Bernfried Runow. In studio engineering my old friend Jürgen Frehse, Doris Hauser, Johannes Steuer and Karl-Heinz Runde, for a couple of years now also Volker Neumann, then with the radio symphony orchestra also Martin Vögele + and Burkhard Pitzer-Landeck.
In the eighties I organised and recorded many events such as the regular programmes Espresso, Treff nach 12, etc., for Gisela Böhnke, who in those days was still a presenter for Radio3-Südfunk Stuttgart (I was, by the way, pretty glad to be able to escape for a while from the work with the Big Band, which I didn't consider up-to-date). Since back then the copying possibilities on a digital basis didn't exist yet, the tape copies remained in her custody – where, however, they were not in good hands. When I enquired after them in the nineties, when I would have liked to copy to DAT, she simply stated: I cleared out my cupboard long ago, after all I could keep lots of things, ….. who takes an interest in the all the stuff from bygone days, …. radio has to be contemporary.
So that's the way it is. I on the other hand believe that we also have the duty to document history, but who in our fast-paced times has an understanding of historical contexts ?
Since due to my antiquated beliefs as a producer, I became more and more dispensable, in fact a disturbance, in my work with the Big Band, I decided in 2008 to dedicate myself  more intensively to the work with the radio symphony orchestra and  chamber music. In this field I encountered gratifying collaboration with Martin Vögele, Burkhardt Pitzer-Landeck and Karl-Heinz Runde, with whom I already enjoyed working in the area of light music. Somebody from transmission technology also has grown dear to me: Bernfried Runow, alongside Wilfried Wenzl and the many others I can't possibly all mention here ..